By ReadyIT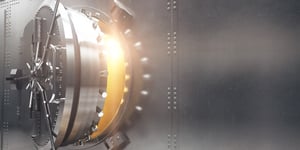 Data breaches make the headlines. And the bigger the company, the harder the fall. Recently, a Facebook breach affected some 50 million users. The hack appears to have affected those who use Facebook to log into other sites. Without the right data security solutions, organizations risk leaking reams of virtual data, including sensitive contact, login, and financial information. Failing to keep data safe is tremendously damaging, and your company's reputation might never recover.
How to Protect Your Business' Data
How does your business keep your customers and their information secure? How do you keep company "secrets" safe? Data security solutions can help.
When it comes to cloud security:
Utilize cloud storage intelligently. Many small businesses (or large ones, for that matter) simply do not have the capacity to store information locally. However, if you have particularly sensitive data, avoid storing it on the cloud. If you must, vet the solution thoroughly and double check encryption and access settings. You literally cannot be too careful.
Get serious about passwords. For hackers, cracking passwords are typically child's play. And, because many people use the same passwords for multiple accounts, we roll out the virtual welcome mat to our sensitive information. Use password best practices, such as choosing a random word (preferably a longer one), use special characters in random places, and do not share your password with others - or use it for other sites. It is best to change it periodically.
Use an encrypted service. You can encrypt your own files before moving them to the cloud, or you can use a service that encrypts for you. This will encrypt the files on your device as well as store them safely on the cloud. Opt for "zero knowledge" privacy, and no one will be able to access them, not even the server admins.
Cloud security is a serious issue, and you cannot afford to neglect it. If you are using these solutions now, take a step back, evaluate the level of security, and ask our expert team how you can enhance safeguards to protect your trade information, your customers, and your reputation.