By R2 Unified Technologies
There are many IT security solutions available, but few are as robust or complete as the Microsoft Defender suite of products, one of the most commonly used of which is Microsoft Defender for Endpoint. Not only is Microsoft Defender already well-equipped to support a Microsoft ecosystem, but it also comes with advanced artificial intelligence, threat detection, and response. Let's take a deeper look at what Microsoft Defender is and what it can bring to the table.
---
What is Microsoft Defender?
"Microsoft Defender" is the brand name for a Microsoft suite of IT security solutions, encompassing many of Microsoft's efforts to protect businesses and individuals alike. There are two primary sub-brands, Microsoft 365 Defender and Azure Defender, which work to safeguard the Microsoft 365 and Microsoft Azure ecosystems, respectively.
Within the Microsoft Defender brands are a number of specific services. For example, Microsoft 365 Defender includes Microsoft Defender for Identity, Microsoft cloud App Security, Microsoft Defender for Office 365, and Microsoft Defender for Endpoint. Many of these had their names changed in 2020 along with the branding overhaul (Microsoft 365 Defender used to be Microsoft Threat Protection, for instance).
In this blog, we'll be primarily talking about Microsoft Defender for Endpoint, or MDE. However, the broader Microsoft Defender ecosystem encompasses security solutions far beyond MDE.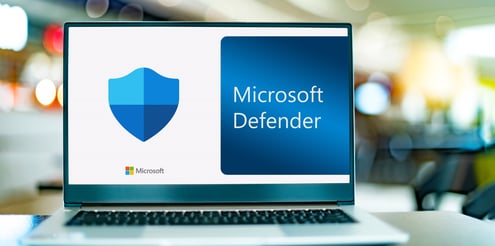 Microsoft Defender for Endpoint is a cloud-based security solution that helps protect your devices and data from malware and other threats. It uses predictive analytics and machine learning to identify and block threats before they can do damage, and it provides you with real-time visibility into the health of your environment. Microsoft Defender for Endpoint is easy to deploy and intuitive, although expert services may be needed to fully configure it.
1. Centralized Management and Visibility
With Microsoft Defender for Endpoint, all of your organization's security data is centralized in one place — an absolute necessity in a constantly expanding security landscape. Administrators can see where potential threats are coming from and respond to them quickly. Higher levels of visibility decrease the chances that a potential intrusion could go unnoticed. Unlike many other systems, Microsoft doesn't just alert; it heals. Administrators have a bird's eye view over the status and disposition of their systems. 
2. Real-Time Threat Detection and Response
Microsoft Defender for Endpoint uses machine learning and artificial intelligence to constantly monitor for threats. This means that you can detect and respond to threats in real-time before they have a chance to do damage.

Artificial intelligence and machine learning systems will constantly grow more accurate and more effective. They will get to know the standards of the network and its endpoints and will react if suspicious behavior is detected. This type of advanced, real-time threat detection and response significantly reduces the chances of a major data breach or system disruption.
3. Comprehensive Protection
Microsoft Defender for Endpoint provides comprehensive protection against a wide range of threats, including malware, phishing, and ransomware. This means that you can be confident that your organization is protected against the latest security threats.
In particular, ransomware has become a tremendous threat in recent years, with many high-profile companies and even government agencies being attacked. Phishing attempts are notoriously difficult to protect against, as employees themselves can be vulnerable. Microsoft Defender for Endpoint will identify potential phishing attempts based on context clues and will flag them for further review.
4. Cost-Effective Security Solution
SMBs shouldn't shy away from Microsoft Defender for Endpoint. Although it is an enterprise-class utility, it's cost-effective for organizations of all sizes. Microsoft provides a complete suite of security solutions, in addition to Defender for Endpoint. Further, Microsoft's solutions are extremely reasonably priced. With the help of a Microsoft partner, organizations can determine exactly which solutions they need within the Microsoft ecosystem. A Microsoft partner can further aid with the installation and ecosystem.
5. Integration with the Microsoft Ecosystem
Microsoft Defender for Endpoint integrates with the Microsoft ecosystem, including Azure Active Directory, Office 365, and Intune. This gives you the ability to leverage the power of the Microsoft cloud. Data integration and a single, consolidated system shouldn't be ignored; this is a tech stack that fundamentally works well together.
Many organizations experience data breaches due to third-party applications or integrations; Microsoft will not have this issue because all the systems working together will be from the same place. Integration with the Microsoft ecosystem can be achieved through other security suites, but may not be as efficient, effective, or affordable. 
6. Ease of Deployment and Maintenance
Microsoft Defender for Endpoint is easy to deploy and manage. It is frequently applauded by its user base for being intuitive. Most organizations will be able to hit the ground running with Microsoft Defender for Endpoint. But that doesn't mean that more complex configurations or more advanced options also aren't available. The barrier to entry for Defender for Endpoint is quite low, but the skill ceiling is high; in the right hands, it can become even more efficient and effective.
7. Scalability and Flexibility
Microsoft Defender for Endpoint is highly scalable, making it a good choice for organizations that are growing or have fluctuating security needs. Not only can organizations manage large numbers of users and endpoints, but the cloud solution can scale to the size of any network or infrastructure. If your organization is growing, why invest in a solution that you'll need to upgrade in just a few years? It's less disruptive to choose a solution that will be able to scale.
The Challenges of Microsoft Defender for Endpoint
There are downsides to any software suite. Microsoft Defender for Endpoint has two major issues: resource management and configuration. With cloud solutions, resource management directly relates to the amount that an organization will spend. It's easy to lose track of the resources used by cloud solutions and, in turn, lose track of your budget. If your installation isn't properly configured and optimized by a professional, you may spend more than you need.
In terms of configuration, Microsoft Defender for Endpoint is easy to launch and intuitive. But an expert can properly configure an MDE installation to be even more accurate while not over-using resources. Further, a professional security provider can help your organization develop a complete enterprise data protection solution. MDE is only one (critical) part of a complete security solution.
Either way, the challenges of MDE are few and far between compared to its advantages. Microsoft Defender for Endpoint is incredibly robust and—in an era of constantly increasing threats—incredibly needed. Between smartphones, remote work, and IoT devices, people are increasing the endpoints that they interact with on a day-to-day basis exponentially. Through the Microsoft Defender for Endpoint system, you can protect the most important resource that your business has—its data.
But that doesn't mean you need to transition to Microsoft Defender for Endpoint on your own. An expert can help. Contact the experts at R2 Unified Technologies to find out more. We're here for you.