By R2 Unified Technologies
In addition to SD-WAN technology, organizations are now exploring Cisco SD Access. SD Access (Software Defined Access) is a relatively new solution that extends virtualization to the access layer of the network. SD Access is intended to provide greater levels of speed, accessibility, automation, and scalability to administration.
---
What is Software-Defined Access?
What is SD Access? Cisco's SD Access is part of the DNA platform — Digital Network Architecture center. Essentially, it provides an additional layer of analysis, controls over access policies, network segmentation, and endpoint monitoring. It is an all-in-one product that provides another vital layer of security and privacy protection. The four major components related to SD Access include the DNA Center controller, the Network, the Cisco Identity Services Engine, and the DNA Advantage License. All these components work together to create a software-defined layer of access.
Many organizations already using Cisco technologies will be able to easily integrate Software-Defined Access into their existing architecture. SD Access isn't an entirely new technology; rather, it's a collection of utilities that make it easier to manage networks, endpoints, and end-users. Through this technology, as well as better processes, organizations are able to maintain better control over their organization's access points.
This becomes even more important as companies add Internet of Things (IoT) devices and increasingly complex Mobile Device Management (MDM) to their existing networks.
Outside of Cisco's SD Access technology, software-defined access can refer to any utility that manages access on a software level rather than a hardware level. Cisco's SD Access technology is a robust suite of tools and processes, but there are other utilities that also manage access through software and virtualization.
What are the Benefits of SD Access?
SD Access is intended to make the existing access management processes and protocols easier. The core advantages of SD access include:
Analyzing traffic. Administrators will be able to identify, profile, and group endpoints. They are able to define access policies and utilize artificial intelligence and machine learning to analyze traffic and behavior. By analyzing this traffic and behavior, organizations are able to better improve upon their efficiency as well as potentially detect bad actors and malicious threats.
Segmenting the network. Organizations are able to utilize multi-level segmentation and group-based access to thereby silo their information and potentially mitigate threats. Better segmentation of the network means that the potential for disaster is greatly reduced. If one device or account is compromised, network segmentation will reduce the amount of the network that is compromised.
Continual endpoint monitoring and trust verification. Through SD Access, endpoints can be continually monitored. AI and ML technology can be used to identify potential issues with endpoints and potential trust issues. Overall, SD Access can improve upon both endpoint monitoring and mobile device management, by automating many of the processes that are necessary to validate and trust connections.
Scan for vulnerabilities. SD Access can perform continuous scans for vulnerabilities and alert administrators if vulnerabilities or threats are found. Serious vulnerabilities can be detected and mitigated faster, to reduce the chances of overwhelming data loss or data-related expense.
Containing potential threats. When threats are discovered, they can be appropriately quarantined or sandboxed, and the appropriate administrators can be contacted. By containing potential threats when they are discovered, organizations can sidestep serious disruption or serious data breaches.
Improving user experience. By automating traditional user access policy, SD Access can improve the experience of the end user. End users and devices are able to connect from anywhere they are with a seamless network experience. By facilitating a positive user experience, administrators are also able to improve the effectiveness their organization.
Gleaning key insights into the corporation. Because of the sheer amount of data that's acquired through SD Access, organizations can also gain key insights and track metrics that may be needed to improve their company's operations.
In short, SD Access makes access solutions and protocols easier to use and manage. Cisco SD Access automates many of the processes involved in access management and can mitigate many potential threats.
As a direct result, Cisco's SD Access can reduce costs for an organization (by reducing the potential for threats and attacks) and reduce the number of hours administrators spend managing their systems vs. performing revenue-generating tasks for the organization.
What are the Limitations of SD Access?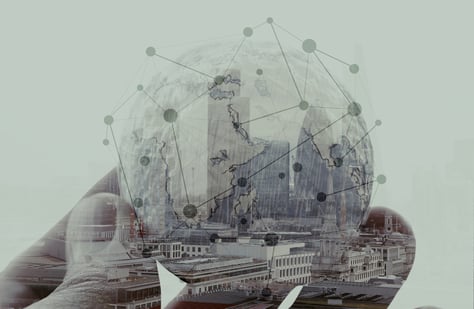 SD Access isn't a new technology. Rather, it's a suite of utilities and protocols that's intended to improve upon and automate end-user and endpoint access. SD Access can't detect and mitigate all threats, and it's only as smart as the data that is fed to its AI and machine-learning solution. SD Access still has to be guided by a professional administrator, who will need to set the correct protocols, groups, and alerts.
To that end, a managed service provider (MSP) can help organizations looking into SD Access. An MSP will be able to configure the solution with the proper network segmentation and user access controls, so the system can run seamlessly and can more easily detect and mitigate potential threats.
Most of the potential issues with SD Access boil down to the potential for misconfiguration, which is something that an MSP would be able to resolve.
How Do You Use Software-Defined Access?
Software-defined access can be implemented through the Cisco DNA platform. Organizations who are running on a Cisco infrastructure will be able to take advantage of SD Access to secure and protect their network, as well as improving upon the general efficiency of their network-based solutions.
Is your organization interested in optimizing and automating its access protocols? SD Access can help. But because it's a relatively new technology, many companies will need guidance regarding its implementation. R2 can be a guide for your business realizing these benefits.
Contact R2 Unified Technologies today to find out.